Harris Floating Wetlands
Installing and Creating  Floating Treatment Wetlands Since 2005
We have  been designing and installing  floating treatment wetlands since 2005 in Australia.
Our inspiration is that we believe that ecological design is an essential best management practice for future stormwater management. Our robust system was developed to be a fully functioning wetland that becomes part of the local ecosystem forever.
Harris Floating Wetlands Pty gives you a wetland system developed in Australian conditions, using NSW suppliers, with no international franchisees or multinational interests, which translates into cost savings for you.
Your success is our success- benefit from a performance driven team that are proven in floating treatment wetlands and we offer our personal commitment to provide you with the benefit of the best we have learnt since our first installation at Tuross Heads Country Club.
We could see the unique opportunity for using floating wetlands as a retrofit option for existing ponds and wetlands with water quality problems. This is because they can:
Retrofit existing wetland, storage or detention ponds
Rise and fall with fluctuation water levels
Manage algae and remove nutrients, SS metals, COD, BOD
Provide Effective nutrient management to decrease the cost of maintenance of filters and other mechanical treatment measures.
In a standard constructed wetland, water is treated by the biofilm attached to plants stems that absorb colloids and nutrients. In a floating wetland, the roots provide the surface area for supporting biofilms as well as physically calming the water so sediment settles.
THE BENEFITS OF THE WET SYSTEM DESIGN
We have trialed and tested various designs over the last 12 years, however our basic core design principles have remained the same.
Our design is a wet system that will support real floating wetland species (emergent macrophytes), that includes Baumea articulata, Schoenoplectus validus, Cyperus exaltus, Carex fascicularis, Carex appressa and Philydrum lanuginosum. Tubestock planted into coir substrate at a rate of 12 per/m². Submerged "wet" system are superior to dry systems because it's a "real" wetland. The submerged and free floating wetland plants create a true marsh environment which captures and stores organic material in the peat leading to high quality water treatment. Because the plants are grown in a submerged conditions, weed invasion is minimal.
The plants are planted into a coconut coir planting medium. This has a life of 3-5 years, by which time has transitioned into a living layer of roots and organic peat layer. Coir provides an ideal bacterial support medium for fixed film denitrification processes. Research results has found removal of nitrate nitrogen and COD removal is just as efficient as synthetic support mediums. It forms a thick mattress of microbial matter that is submerged so that more of the water is in contact with the treatment system, as opposed to 'floating gardens' with a dry surface which is not a natural habitat for emergent wetland species;
There is sufficient buoyancy to support a 70kg person for maintenance. Maintenance can also be undertaken by small boat from either side. We can provide additional buoyancy pipe in the design if required.
Our installation is quick as the complete floating wetland is assembled and installed on site using a purpose built trailer.
We can provide you with a quote that includes :
Sizing of floating wetlands that can meet your budget and water treatment needs;
Advise on the best location and configuration to optimize treatment
Design of the best anchoring system
Procedures for the long term maintenance of the system
Sizing the floating treatment wetland for your site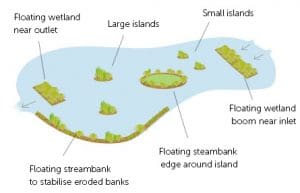 Current research suggests that detectable water treatment is achieved with a floating wetland covering 10% of the surface area of the water body and 7 day detention time. This is a linear relationship, so a smaller floating wetland over a longer detention time will also achieve detectable water treatment.
This rate of coverage may cost effective for small ponds or dams, but is likely to be too expensive for larger lakes and reservoirs. For larger waterbodies we suggest that the floating wetland is strategically located near the inlet or outlet or as a boom across the water body to maximise opportunity for close contact between roots and pollutants.
There are numerous research papers on the effectiveness of floating wetlands to treat various pollutants (ie., copper, zinc, nitrogen, phosphorus etc) and we would be happy to provide you with the source of this material to help you make your decisions.
In some cases a staged installation is the best way to see what systems and options will work best. For example, 20m2 in year 1, followed by another 30m2 in year 2. Our quote will include the cost to supply, transport, anchor and install. We can provide a maintenance service which involves quarterly by boat per year to undertake any weeding or adjustments necessary.
Trials, research and development
We undertake continual research and development  to address the design issues that arise from each unique installation. Such design improvements are first tested on our own research sites and then modifications are further tested in the field.
These improvements help us to be the leaders in the field when it comes to species we can grow on our floating wetlands, methods for protecting them against bird predation, protecting the roots from European Carp (cut off below base of floating wetland) and stabilising eroded stream and river banks.
For some sites, we will recommend the installation of a 10m2 trial installation as a precursor to a larger installation. There are many advantages to this approach including:
Both the client and community get to see the smaller version before committing to the much larger installation;
Opportunity to trial the installation without bird protection cages to see whether the local birds will be a problem;
Opportunity to trial different types of bird protection to compare effectiveness and visual appearance;
Trial the different design options – standard rafts, streambank edges, floating islands and pre planted coir mats; and
Trial different plant species for local conditions.
We are happy to discuss the best trial options to suit the unique characteristics of your site.
Supply, installation and anchoring
Our quoted fee will include the complete service for an anchored floating wetland. We can advise on the type of anchoring best suited for your site.
Transportation
Our quoted fee will include the complete service for an anchored floating wetland or streambank edge. We can advise on the type of anchoring best suited for your site and can prepare a design for you to install these anchors or we can do for you.
Maintenance
The submerged growing bed is a unique feature of our FTW design. We provide an Operation and Maintenance Report that outlines the frequency of site inspections and items to be checked and actions required if necessary This provides a shallow We also offer a quarterly maintenance program.zone of water on the surface of the FTW that helps prevent the establishment of terrestrial weeds and provides further habitat for biofilm (basis of water treatment) on the stems of plants.